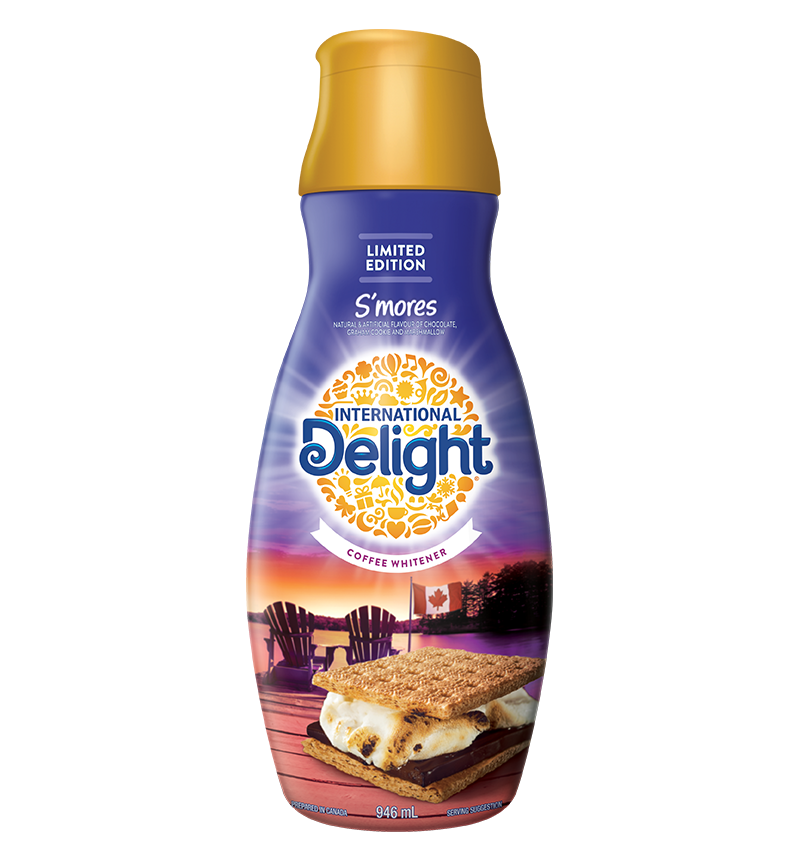 S'MORES – LIMITED EDITION
COFFEE WHITENER
Gooey, delicious s'mores are synonymous with camping trips under the stars. What better way to relive those special moments than to savour this special snack in your cup of joe? Our lovingly crafted s'mores coffee creamer is a delicious blend of everything you love about this sweet treat: the crunchy graham cracker, the rich chocolate, and the creamy marshmallow. Each sip will whisk your mind away to memories of crackling campfires, acoustic sing-alongs, and cherished time spent with friends and family. Bring your favourite sweet treat home with you – revamp your coffee with International Delight s'mores creamer!

Nutrition
Serving Size: 15 mL
Amount Per Serving
Calories: 35
% Daily Value*
Fat: 1.5g

2%

Saturated Fat: 1g

5%

Trans Fat: 0g

Carbohydrate: 6g

Fiber: 0g

0%

Sugars: 6g

6%

Protein: 0g

Cholesterol: 0mg

Sodium: 4mg

1%

Potassium:30mg

1%

Calcium:0mg

0%

*5% or less is a little, 15% or more is a lot
Ingredients
Water, Sugar, Palm oil, Sodium caseinate* (milk), Dipotassium phosphate, Carrageenan, Mono and diglycerides, Sodium stearoyl lactylate, Polysorbate 60, Salt, Natural and artificial flavour.
*Sodium caseinate is not a source of lactose.