Caramel macchiato cheesecake bars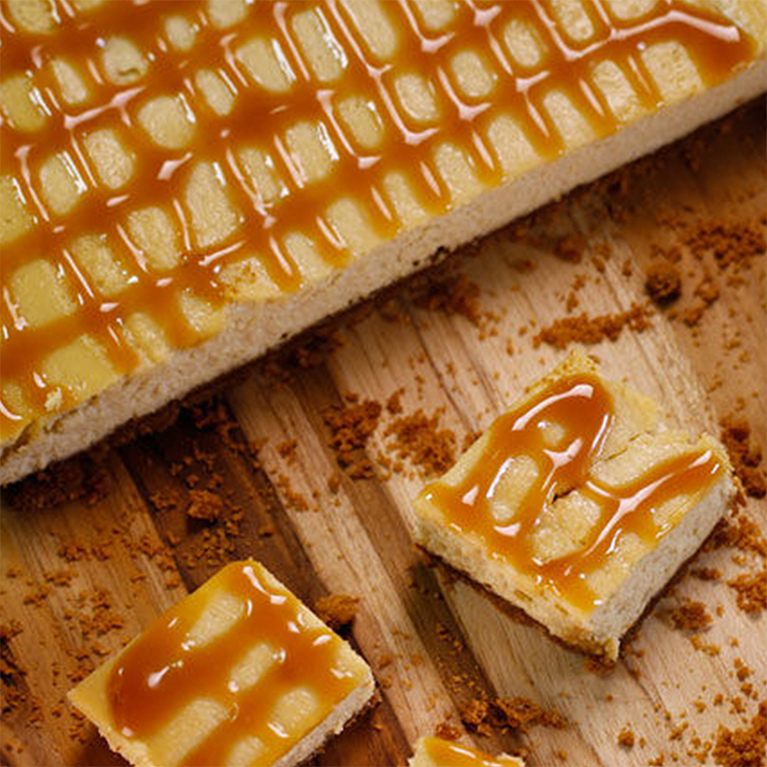 Caramel macchiato cheesecake bars
Serves 12-16
The rich flavours of your favourite coffeehouse drink come together in a melt-in-your-mouth dessert.
Featured ID Flavor: Fat-Free Caramel Macchiato
Instructions
Preheat oven to 350° F.

Combine cookie crumbs and melted butter and press into an 8x8-inch pan. Bake for 8 minutes, then cool.

Heat International Delight coffee enhancer Fat Free Caramel Macchiato flavour in microwave or saucepan until warm. Add espresso powder and stir to dissolve.

In a separate bowl, beat cream cheese and sugar until light and fluffy. Add coffee enhancer/espresso mixture and beat for 4-5 minutes, until batter is smooth, scraping bowl occasionally.

Add eggs, one at a time, beating and scraping after each addition. Add vanilla and beat until smooth.

Pour on top of prepared crust and bake for 30-35 minutes until set. Cool completely.

Drizzle with caramel sauce.
Ingredients
1 1/4 cups speculoos cookie crumbs
1/4 cup butter, melted
1/2 cup International Delight coffee enhancer Fat Free Caramel Macchiato flavour
1 tsp. instant espresso powder
2 (8 oz) packages cream cheese, softened
1/3 cup sugar
3 eggs
1/2 tsp. vanilla extract
Caramel sauce, for serving
Feature Product Fat-Free Caramel Macchiato
LEARN MORE