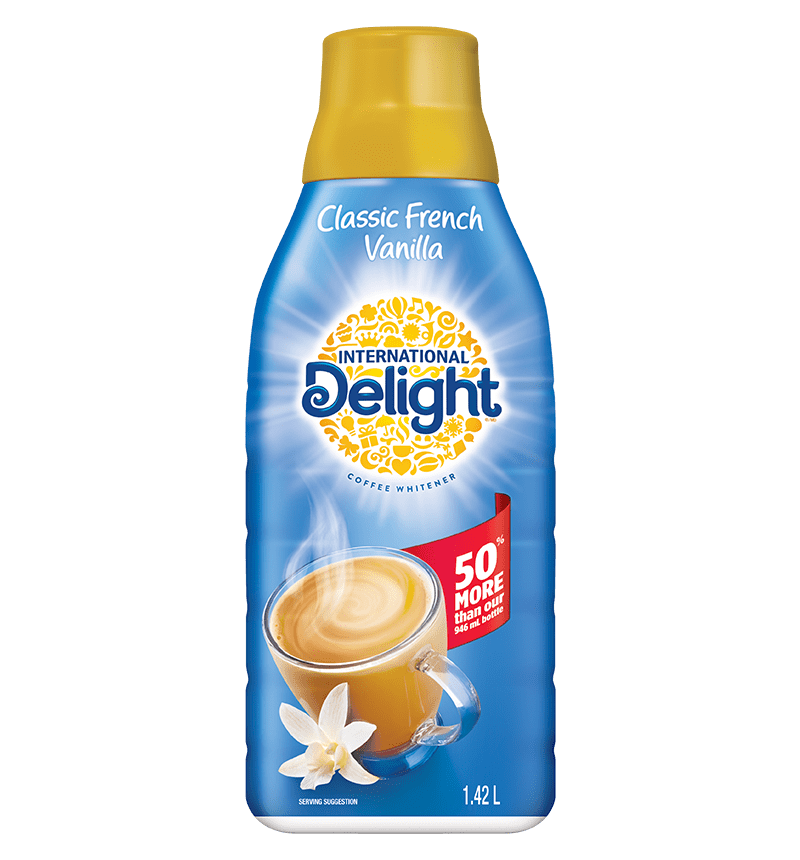 Classic French Vanilla
Coffee Creamer
A rich creamy dream of sweet mellow French Vanilla flavour.

At grocery stores in 1.42L mL format. 50% larger than our 946mL bottle.
Nutrition
Serving Size: 15 mL
Amount Per Serving
Calories: 35
% Daily Value*
Fat: 1.5g

2%

Saturated Fat: 0.5g

3%

Trans Fat: 0g

Carbohydrate: 5g

Fiber: 0g

0%

Sugars: 5g

5%

Protein: 0g

Cholesterol: 0mg

Sodium: 10mg

1%

Potassium:30mg

1%

Calcium:0mg

0%
Ingredients
Water, Sugar, Palm oil, Sodium caseinate* (milk), Dipotassium phosphate, Sodium citrate, Carrageenan, Mono and diglycerides, Sodium stearoyl lactylate, Salt, Natural and artificial flavours.
*Sodium caseinate is not a source of lactose.
COVID-19
International Delight Canada wishes to express its support towards all those affected directly or indirectly by the COVID-19 situation.
In these difficult times in which our daily routine is turned upside down, International Delight wants to help you preserve that precious coffee moment by personalizing it with our delicious flavours. Discover our products and try our recipes!
Did you know that our parent company Danone Canada continues to support its long-term partner, the Breakfast Club of Canada, by contributing to their emergency fund with a $200,000 and 45 000 products donation?
Also, building on its 10 years+ partnership with Moisson Montreal, the country's largest food bank, Danone Canada is currently reinforcing its efforts by donating products weekly. 1 million Danone products have been distributed so far.
In these difficult times, our teams continue to demonstrate exceptional commitment in order to be able to support Canadians in need by providing them delicious products. The Danone Canada mission of bringing health through food to as many people as possible is today more important than ever.