Caramel pancakes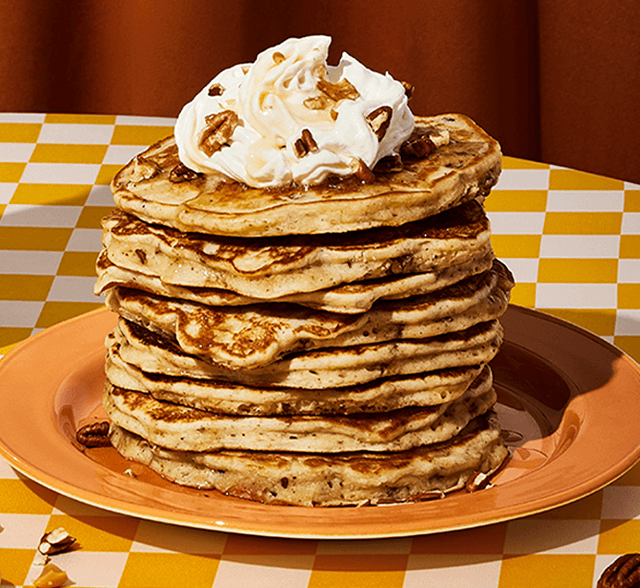 Caramel pancakes
Serves Up to 12 pancakes
PREP TIME 15 mins
Indulge yourself with these fluffy vanilla toffee caramel pancakes studded with pecans. Serve them with a pat of butter and maple syrup for a special weekend breakfast.
Featured ID Flavor: Caramel Macchiato
Instructions
Whisk together buttermilk, International Delight coffee creamer Caramel Macchiato flavour, eggs and butter. Combine flour, 3/4 cup (175 mL) pecans, brown sugar, baking powder, baking soda and salt; stir into egg mixture until almost smooth.

Heat lightly greased nonstick skillet or griddle over medium heat. Using 1/4 cup (60 mL) batter for each pancake, cook pancakes, in batches, for about 2 minutes or until bubbles appear on the surface. Turn and cook for 1 to 2 minutes or until golden brown on bottoms. Serve with butter and maple syrup; garnish with whipped cream and remaining pecans.
Ingredients
1 cup (250 mL) buttermilk
1/2 cup (125 mL) International Delight coffee creamer Caramel Macchiato flavour
2 eggs
1/4 cup (60 mL) butter, melted
1 1/2 cups (375 mL) all-purpose flour
1 cup (250 mL) chopped toasted pecans, divided
1 tbsp (15 mL) brown sugar
1 tsp (5 mL) baking powder
1/2 tsp (2 mL) baking soda
1/2 tsp (2 mL) salt
2 tbsp (30 mL) butter
1/3 cup (75 mL) maple syrup
Whipped cream
Feature Product Caramel Macchiato
LEARN MORE