Butter Pecan Crunch Cookies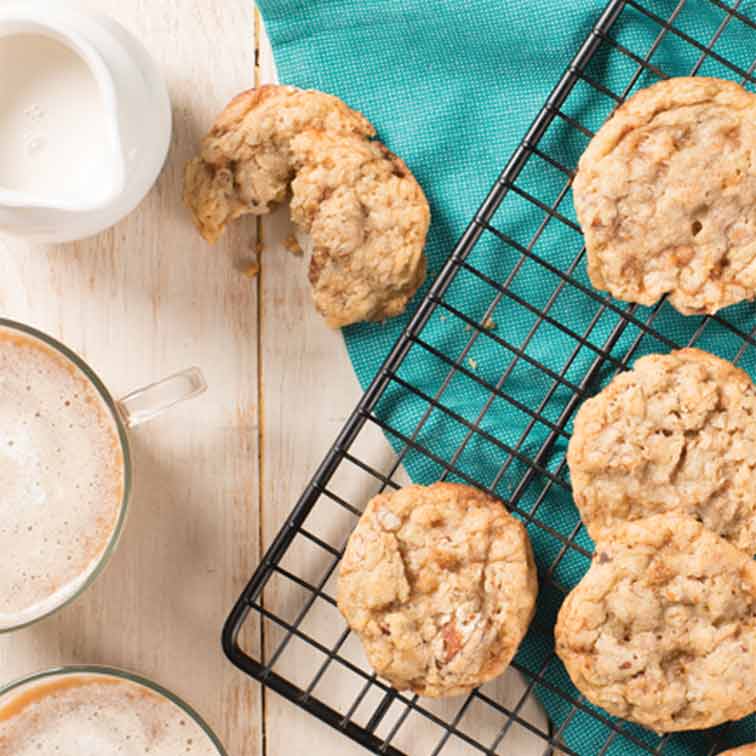 Butter Pecan Crunch Cookies
Makes 4 dozen cookies
Loaded with pecans, crushed pretzels and toffee bits, these sweet and salty cookies are addictively delicious.
Featured ID Flavor: Southern Butter Pecan
Instructions
In a bowl, whisk together flour, baking powder, baking soda and salt; set aside. Using electric mixer, beat together butter, brown sugar and granulated sugar until light and fluffy; beat in eggs, one at a time, until fully incorporated.

Beat in International Delight coffee enhancer Southern Butter Pecan flavour and vanilla. Stir in flour mixture; beat until just combined. Fold in oats, pecans, pretzels and toffee bits. Cover and refrigerate for 1 hour.

Preheat oven to 375ºF. Drop heaping tablespoonfuls of dough, about 2 inches apart, onto parchment paper–lined baking sheets. Bake, in batches, for 7 to 9 minutes or until tops are set and bottoms are golden brown.

Let cool on baking sheet for 2 minutes; transfer to rack. Let cool completely.
Ingredients
2 cups (500 mL) all-purpose flour
1/2 tsp (2 mL) baking soda
1/2 tsp (2 mL) salt
1 cup (250 mL) unsalted butter, at room temperature
1 cup (250 mL) firmly packed brown sugar
1/2 cup (125 mL) granulated sugar
2 eggs
1/4 cup (60 mL) International Delight coffee enhancer Southern Butter Pecan flavour
1 cup (250 mL) large flake oats
1 cup (250 mL) chopped toasted pecans
1/2 cup (125 mL) crushed pretzels
1/2 cup (125 mL) toffee bits
Feature Product Southern Butter Pecan
LEARN MORE