Hazelnut Brown Butter Slab Pie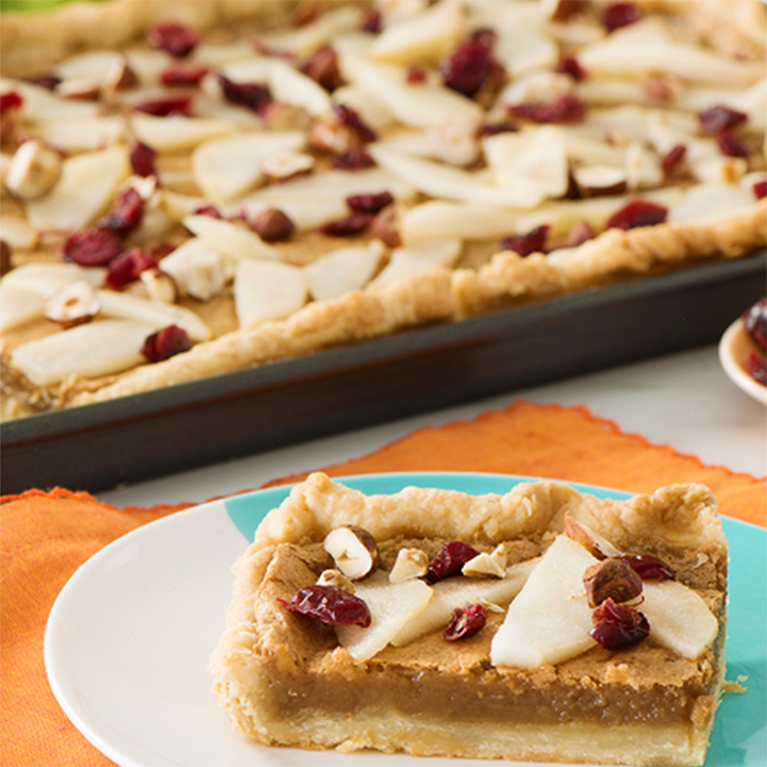 Hazelnut Brown Butter Slab Pie
With fall harvest flavours, this stunning hazelnut brown butter slab pie with pears and cranberries will wow any Thanksgiving crowd.
Featured ID Flavor: Hazelnut
Instructions
Pie Pastry: In bowl, combine flour and salt; cut in butter and shortening with pastry cutter or fingertips until mixture resembles coarse meal. Whisk together egg yolk and 1/2 cup (125 mL) ice water; using fork, stir into flour mixture until dough comes together. Form into ball and flatten into disc. Wrap in plastic wrap and refrigerate for at least 1 hour.

Preheat oven to 400ºF (200ºC). On work surface, roll out pastry between 2 large sheets of parchment paper, lightly dusted with flour, into 17- x 12-inch (40 x 30 cm) rectangle. Peel off top parchment paper. Invert onto 15- x 10-inch (40 x 25 cm) rimmed baking sheet. Remove remaining parchment paper. Press pastry onto bottom and up side of pan, trimming as needed. Refrigerate for 20 minutes.

Prick shell with fork; line with foil or parchment paper. Fill with pie weights or dried beans; bake for 15 minutes. Remove foil and weights; bake for 5 to 7 minutes or until pastry is lightly golden and crisp. Let cool completely.

Hazelnut Butter Tart Filling: Preheat oven to 375ºF (190ºC). Melt butter in large skillet set over medium heat, swirling in pan for about 2 minutes or until foaming stops and turns light brown colour. Stir in brown sugar; cook for 3 to 5 minutes or until just starting to caramelize. Sprinkle with flour and salt; whisk until combined. Remove from heat and scrape into bowl. Stir in International Delight coffee enhancer Hazelnut flavour and vinegar. Beat in eggs, one at a time, until blended

Scrape filling into prepared pie crust; smooth top. Bake for 20 to 25 minutes or until pastry is golden and filling is puffed and set. Let cool completely on rack.

Pear and Cranberry Topping: Meanwhile, in saucepan set over medium heat, combine 1 1/2 cups (375 mL) water, sugar, lemon juice and International Delight coffee enhancer French Vanilla flavour; bring to boil. Cook for 2 to 3 minutes or until sugar dissolves. Reduce heat to medium-low; stir in pears. Cover and poach pears for 8 to 10 minutes or until tender. Drain and let cool completely.

Before serving, arrange pears on top of slab pie. Sprinkle with cranberries and hazelnuts.
Ingredients
Pie Pastry:
4 cups (1 L) all-purpose flour
1/2 tsp (2 mL) salt
1 1/3 cups (325 mL) cold unsalted butter, cut into small cubes
2 tbsp (30 mL) shortening, cut into small cubes
1 egg yolk
1/2 cup (125 mL) ice water
Hazelnut Butter Tart Filling:
1/2 cup (125 mL) unsalted butter, at room temperature
2 cups (500 mL) packed brown sugar
4 tsp (20 mL) all-purpose flour
1/4 tsp (1 mL) salt
4 eggs
1/2 cup (125 mL) International Delight coffee enhancer Hazelnut flavour
1 tsp (5 mL) apple cider vinegar
Pear and Cranberry Topping:
1/2 cup (125 mL) granulated sugar
2 tbsp (30 mL) lemon juice
2 tbsp (30 mL) International Delight coffee enhancer French Vanilla flavour
3 ripe pears, cored, peeled and sliced
1/2 cup (125 mL) dried cranberries
1/2 cup (125 mL) chopped hazelnuts
Feature Product Hazelnut
LEARN MORE