Mini chocolate donuts recipe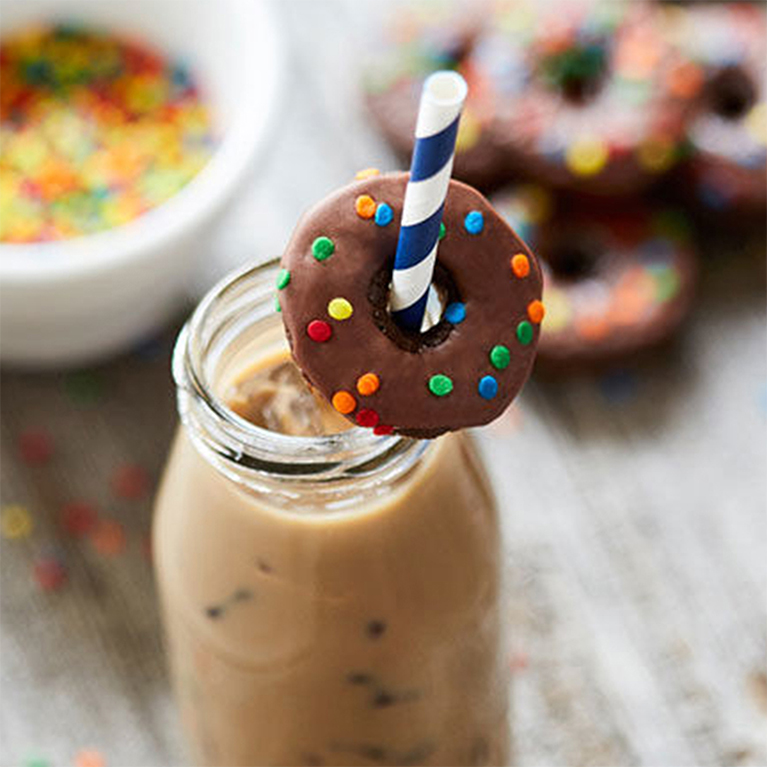 Mini chocolate donuts recipe
Makes 48 mini donuts
A sweet treat that pairs perfectly with coffee.
Featured ID Flavor: French Vanilla
Instructions
Preheat oven to 350° F. Spray a mini donut pan with non-stick cooking spray and set aside.

In a large bowl, whisk together flour, cocoa powder, baking soda and salt. In a separate bowl, mix together buttermilk, sugar, egg, butter and vanilla. Add wet ingredients to dry ingredients and mix until just combined.

Spoon or pipe the batter into the donut pan, filling up about half full. Bake for 3-4 minutes, or until tops spring back. Remove from oven and allow to cool in pan for several minutes, then transfer to a wire rack to finish cooling.

In a separate bowl, mix together the glaze ingredients. Dip tops of donuts into glaze and transfer back to the wire rack to harden. Top with sprinkles.
Ingredients
Mini Donuts:
1 cup all-purpose flour
1/4 cup unsweetened cocoa powder
1/2 tsp. baking soda
1/8 tsp. salt
1/2 cup buttermilk
1/2 cup sugar
1 large egg
2 tbsp. melted butter
1 tsp. vanilla
Glaze:
1 cup powdered sugar
3 tbsp. unsweetened cocoa powder
3-4 tbsp International Delight coffee enhancer (any flavour)
Feature Product French Vanilla
LEARN MORE