Candy Land Shake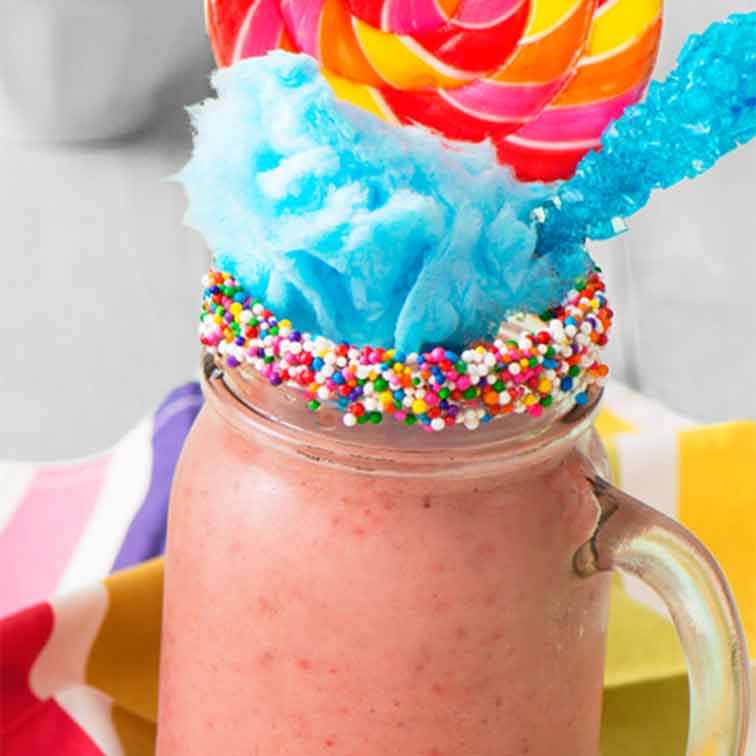 Candy Land Shake
Serves 1
Let your imagination run wild when garnishing this fresh fruit smoothie with over-the-top treats!
Featured ID Flavor: Reduced Sugar French Vanilla
Instructions
Place sprinkles on small plate; shake plate to create an even layer. Pour honey onto second plate; dip rim of 2-cup (500 mL) Mason jar into honey, tilting and swirling until rim is coated. Dip in sprinkles to coat. Set aside.

In blender, combine orange juice and International Delight coffee enhancer Reduced Sugar French Vanilla flavour. Add banana, mango and strawberries; blend until smooth. Pour into prepared Mason jar.

Adhere cotton candy to one end of a skewer. Garnish Mason jar with cotton candy skewer, rock candy, lollipop and bonbon. Serve immediately.
Ingredients
2 tbsp (30 mL) candy sprinkles
1 tbsp (15 mL) honey
1/2 cup (125 mL) orange juice
1/2 cup (125 mL) International Delight coffee enhancer Reduced Sugar French Vanilla flavour
1 frozen banana, cut into chunks
1 cup (250 mL) frozen mango chunks
1/2 cup (125 mL) frozen strawberries
1/2 cup (125 mL) cotton candy
1 stick rock candy
1 large striped lollipop
1 candy bonbon
Feature Product Reduced Sugar French Vanilla
LEARN MORE