Chocolate Hazelnut Protein Balls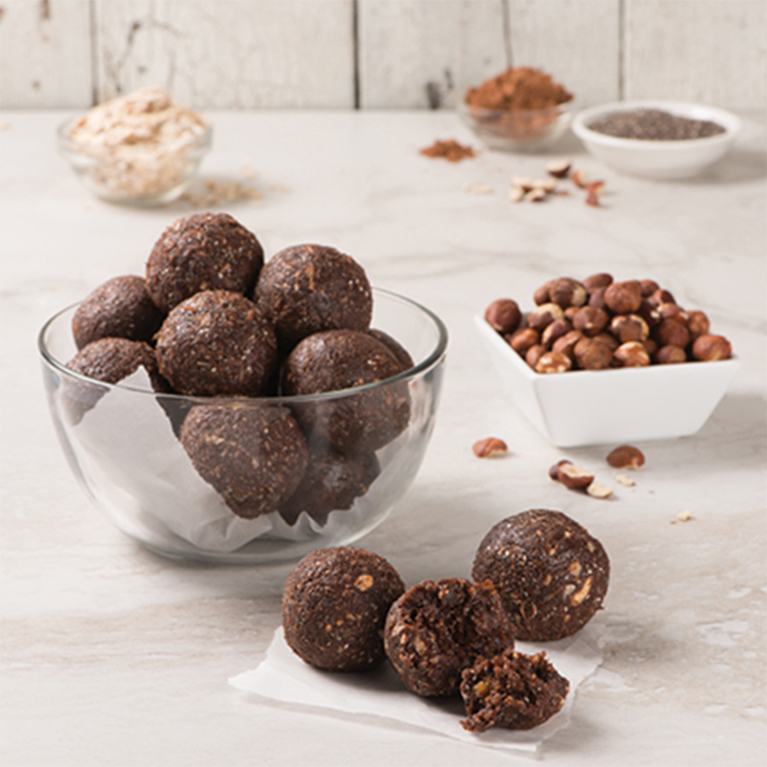 Chocolate Hazelnut Protein Balls
18 Balls
To avoid getting "hangry," take along these yummy energy balls as an easy and nutritious on-the-go snack.
Featured ID Flavor: Fat-Free Hazelnut
Instructions
In food processor, pulse dates, scraping down sides of bowl as needed, until dates start to come together into ball. Add hazelnuts, oats, coconut, cocoa powder, chia seeds, International Delight coffee enhancer Fat Free Hazelnut flavour, coconut oil and salt; pulse until combined.

Firmly press mixture into an even 8-inch square on a parchment paper-lined baking sheet. Cover and refrigerate at least 1 hour or overnight.

Cut into 18 equal pieces and roll into balls. Store refrigerated in airtight container up to 1 week.
Ingredients
2 cups (500 mL) pitted Medjool dates
1 cup (250 mL) toasted hazelnuts
1/2 cup (125 mL) quick oats
1/2 cup (125 mL) unsweetened shredded coconut
1/3 cup (75 mL) unsweetened cocoa powder
1/4 cup (60 mL) chia seeds
1/4 cup (60 mL) International Delight coffee enhancer Fat Free Hazelnut flavour
2 tbsp (30 mL) coconut oil, melted
1/4 tsp (1 mL) sea salt
Feature Product Fat-Free Hazelnut
LEARN MORE